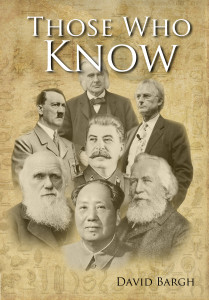 David was born, brought up and has always lived in the old cotton towns to the North of Manchester. After schooling in Bury, he went to what is now the University of the South Bank where he studied engineering, subsequently becoming a Chartered Engineer with membership of two engineering institutions. He has been married for the last 48 years to Joyce and together they have three grown up sons and seven grandchildren. He started a number of businesses and the two main ones are now run by his sons employing about seventy people. He has always had a keen interest in animals, running a hobby farm for more than 25 years – you name it, he has kept it! He now contents himself with rare breeds of hens and playing golf.
This book takes a brief look at the characters of the last 150 years who have sought to remove God and the church from society.
From Darwin to Dawkins their claim to know with certainty the order and origins of existence has laid the foundations for our society and education system.
When the atheists eventually ruled nations the result was invariable catastrophic.
On researching the various notables I was surprised at how many popular perceptions proved unfounded. The perceived principles of applied Darwinism have led to some of the darkest and most oppressive regimes of the last century. If you follow the trail, at the end you may no longer continue to subscribe to the myths and falsehoods of this substitute creed.