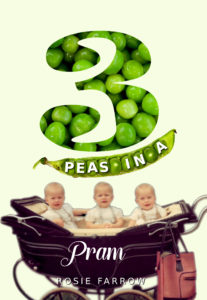 Travel with my triplet sisters and myself through this collective autobiography during the trials and tribulations of the 1950s up to the 1970s.
In July 1961 the whole family did a "moonlight flit" from St James Council Estate in Coventry to Middlesbrough in the North East of England. On arrival at Dad's home town it was discovered there was actually nowhere for us to live.
Walk the streets in Linthorpe Village on the outskirts of Middlesbrough to places like MIDDLESBROUGH NAZARETH HOUSE (a children's home), Albert Park, the Dorman Museum, the Sacred Heart Church and school, then into 5 Mary Ann Street and lastly to a more settled life on the Cumberland council estate.
During this journey over a year's research has brought to light hidden gems from our past;
The hospital where we were born.
A newspaper cutting from the Coventry Evening Telegraph from 1957.
A memo from Coventry and Warwick hospital from August, 1957
A special letter from the Queen's household.
The truth about why we TRIPLETS were placed in Middlesbrough Nazareth House in 1961.
The history of the foundation of Middlesbrough Nazareth House painstakingly pieced together from Archives resources dating from 1880 to the present day.
How, because of my Catholic care and upbringing I began my own
search for God.
I know you will enjoy my unique social commentary of life lived from this part of the world and that it will be of interest to all who ever knew or still live in this important town of Middlesbrough, now the central part of Teesside.